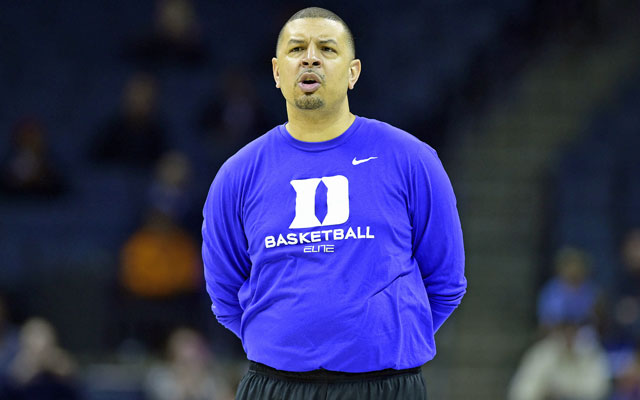 One clear edge Coach K has on the Wizard
Duke's Krzyzewki has laid the foundation for Jeff Capel to succeed him
Photo: Jeff Capel
Name college basketball's greatest coach: UCLA's John Wooden or Duke's Mike Krzyzrewski? It's a debate with no definitive answer.
The Wizard of Westwood's supporters cite 10 NCAA titles in 12 years (1964-1975). Coach K's backers note five national titles spanning three decades (with 1991 and 2015 bookends) captured under an expanded and tougher NCAA Tournament format.

There is, however, another tangible way to separate the coaches. Krzyzewski has done a better job than Wooden laying a foundation for his successor.

Duke's coach-in-waiting is Jeff Capel. That's not an official title, but there are enough clues to expect him to be named Krzyzewki's successor. Do you think Coach K, who turns 71 in February won't have a say in naming Duke's first new coach since he arrived from Army in 1980?

We were reminded of Capel's rank in the Duke chain of command when Coach K called in sick for the Jan. 13 game against Wake Forest game; he didn't want to spread his virus to the players. Capel guided the Blue Devils to an 89-71 win over Wake Forest.

But even more telling was a March night in 2016 when I listened to bestselling author John Feinstein speak at an appearance for what was then his latest book, "The Legends."

No journalist knows Coach K's inner thoughts better than Feinstein. In the intimate setting of a downtown Durham bookstore signing, Feinstein unequivocally said to count on Capel as the coach to succeed Krzyzewski.
Capel is a Duke man with ample head coaching experience that will nevertheless face pressure taking over the program. But Coach K, who turns 71 in February, has been laying a stronger foundation for him than what Wooden left behind at UCLA.

Duke's win over Wake Forest gave Capel a 6-3 record replacing Coach K over the past three seasons. He also won a game at Georgia Tech in 2016 when Krzyzewski was ill. Capel was 4-3 last season while Coach K took a leave of absence for back surgery.

That 2017 seven-game stretch included the added pressure of Capel charged with keeping the team together during the aftermath of Grayson Allen's petulant period of tripping opponents (Allen learned what it feels like to be the victim of a cheap shot on Duke's Jan. 20 win over Pitt).

But it was nothing new for Capel to guide a team. He has nine years previous experience as a head coach at Virginia Commonwealth (four) and Oklahoma (five). He took VCU to the 2004 NCAA and 2005 NIT. He guided the Sooners to the NCAA Round of 32 in 2008 and Elite Eight in 2009.

Coach K brought him back in 2011 to sit beside him on the Duke bench. He turned down pursuing an opportunity as the head coach at Arizona State in 2015.

In addition to Capel's experience as a program steward, he has had a key hand in landing the increased number of one-and-dones Coach K has taken since Capel's return to campus.

Capel has been ranked as one of the top assistants at recruiting in the nation. Despite Coach K's age, the top three players in the Class of 2018 have committed to play for the Blue Devils: R.J. Barrett, Cameron Reddish and Zion Williamson.
At Oklahoma, Capel recruited Blake Griffin, the 2009 national college player of the year and first pick of the 2009 NBA Draft.
Whether Capel can maintain Duke's dominating lofy stature in college basketball remains to be seen, but the transition is on sturdier footing than what awaited Wooden's successors.
In a tumultuous two decades, Gene Bartow (two years) was followed by Gary Cunningham (two years), Larry Brown (two years), Larry Farmer (three years) and Walt Hazzard (four years). Jim Harrick lasted eight years and won the 1995 NCAA title, but he was fired for NCAA violations.
It was at the 1975 Final Four when Wooden abruptly announced his retirement after his Bruins came from behind to beat Louisville in a semifinal game. Two nights later UCLA beat Kentucky for Wooden's final NCAA title.

UCLA went outside the family to name Bartow, who was then a successful coach at Memphis. His 1973 team lost to UCLA in the NCAA championship game.

Bartow guided UCLA to back-to-back Pac-10 titles with a 1976 Final Four and a 1977 Sweet 16 exit. That wasn't good enough for UCLA's fans; he quickly got out of town. He gave up UCLA to start a program at Alabama-Birmingham. That's how much he wanted out of Los Angeles.

The job then went to Gary Cunningham. He had never been a head coach, but he was a Wooden assistant for 11 seasons until Bartow arrived with his own staff.

Cunningham only lasted two years despite back-to-back Pac-10 titles and Sweet 16 and Elite Eight appearances. The short stints continued until Harrick's lengthy disgrace.
Over the years other names from Coach K's coaching tree have been mentioned as possible successors. Three prominent names are former Duke player and assistant coach Chris Collins, Northwestern's head coach; former Duke player Bobby Hurley, Arizona State's head coach; and former Duke assistant Mike Brey, Notre Dame's head coach.

But no one is better positioned than Jeff Capel, thanks to Coach K's foresight that is a plus in his ledger over Wooden's career.

Follow Tom Shanahan's stories on Twitter @shanny4055.
-30-