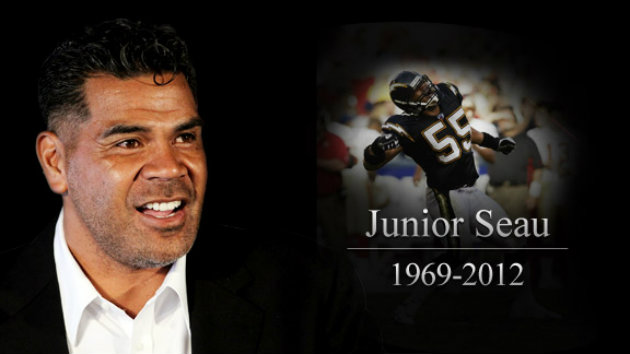 My 1988 story on Junior Seau and his USC debut
Seau looked forward to returning to the field with the Trojans after missing his freshman season
Photo: Junior Seau has been voted into the Pro Football Hall of Fame
My look back at Junior Seau. He will be the first Samoan enshrined in the Pro Football Hall of Fame on Aug. 8 in Canton, Ohio. Check my website later for another story with my thoughts on Junior and the brain damage he suffered from too many concussions.
August 13, 1988, San Diego Tribune
LOS ANGELES -- The worst days were fall afternoons spent in his dormitory room. That's when Junior Seau was unable to shut out the sounds of football practice drifting through his window.
The best days...well, he knew they were a year away.
Junior Seau is back. A high school All-American linebacker two years ago at Oceanside High, Seau is out of the confinement imposed by Prop. 48, the NCAA academics rule that kept him ineligible his freshman year. Seau (pronounced say-OW) is ready to pull on jersey No. 55 now that USC has opened football practice.
"The day-to-day was worse than the game days," Seau said. "The reason was, practice would be going on and you'd hear everything. I'm in my dorm room trying to shut it out and study. But I'd hear the grunts, the hitting, the people yelling and the horns blowing. All the things that would make me wish I was out there. I could visualize everyone having a good time."
For Seau, it was as if a mad scientist had flicked a switch, transforming him from a three-sport star into a regular guy.
"It wasn't me to sit and wait," he said. "That's one reason I approached the weight room with so much energy. There were records there I could break. I was trying to be the first freshman to get on all three charts: the bench, the squat and the clean. That was the only thing I could work on besides academics.
"I let out all of my frustrations on the weights. When I first came to SC I got into too many fights. I was frustrated at not playing and broke my hand twice. I was going out and being Mr. Macho Man, trying to prove myself, and not channeling my energy into something positive. It took me a good month, month and a half to figure it out. I was making the situation worse. I had all that energy and I didn't know where to put it. I'd go to my dorm room and I'd still be up at three o'clock in the morning."
Once he settled into a routine, he attacked the weights with the same enthusiasm with which he competed in high school, where he manhandled running backs, dominated basketball games as San Diego County's Player of the Year and muscled his way to second place in the shot put in the San Diego CIF meet against competition more schooled in the event's techniques.
Seau now packs a solid 240 pounds on his 6-foot-4 1/2 frame, most of it apparently in his chest and anvil-like biceps.
One day recently, his size had the lunch-time crowd buzzing at Julie's, a USC hangout near campus. Since he has yet to play for the Trojans, he's still an anonymous figure. A valet parking attendant facetiously said to Seau he might have to rough him up. When Seau ordered two lunches, a waitress said she wasn't surprised, remarking, "You're so big."
Seau says he hasn't sacrificed speed for size, however. Timed in 4.7 seconds for 40 yards in high school, he now says he runs a 4.6 and can lower it to 4.5. He increased his strength in the bench press from 350 pounds to 430, his squat from 380 to 550 and his clean from 223 to 310.
"All that training made it feel like I was trying out for the Olympics," Seau said.
It wasn't the Olympics, but Seau did win USC's Superman contest, an annual decathlon-like competition of running and weight-lifting events. No freshman ever had won it before. Since it was in a physical education class open to all students, it was his one chance to compete against the team without violating the guidelines of Prop. 48, which prohibits practicing and playing in games.
"If I would have played last year, I wouldn't be as strong as I am," Seau said. "That's the one positive thing. I wouldn't be as big as I am. Right now I feel I'm complete. I feel confident going in now."
Without yet having seen Seau on the practice field, USC coach Larry Smith and his staff face what could be a pleasant decision. They must determine at which outside linebacker position Seau belongs, since one side is for their strongest linebacker and the other for their quickest. Seau is both.
"I would like to rush more," Seau said. "Dropping back in coverage is fine, but I'm more into the physical part. I like to bang, bang, bang. I like to go after things. I wouldn't like to chase and do the bump and run, although I'll do it if it helps the team."
For public consumption, the USC staff says Seau could break into the starting lineup by midseason, but privately they say it may be sooner. The Trojans open the season Sept. 1 at Boston College in a nationally televised game.
"I'm determined to start the first game," Seau said. "No hiding about it. I don't feel a threat by any other outside linebacker. I will prove myself in practice. When the time comes along, it's going to be hard for them to keep me from starting. That's the attitude I'm taking in. People tell me I'm going to start, but the real decision is when we start practice. I'm not going to wait. I've waited enough."
Seau says he likes to model himself after Lawrence Taylor, the New York Giants' prototype outside linebacker.
"The style he uses is go for it, body first, and I'll say I use his style," Seau said. "First play of the game I like to go head up, just to show them where I'm at, and then use my athletic ability to move, keep them guessing, and then hit them again. You've got to play games or you'll be predictable."
For the first time in a year, Seau is excited about game days. He escaped to Oceanside on the weekends last year, but began to settle into the college life in the winter and spring, and even stayed on campus for the summer.
"If I would have stayed up there for the games, I would have been a wreck," Seau said. "There was so much activity going on and I wasn't a part of it. The bonfire before the UCLA game tore me up. I felt so bad. I was down. I was saying I'd stick it out, but then I saw everyone with their uniforms, so I got in my car and left for home. I didn't tell my friends. They wondered where I went. I was overjoyed when the season ended because then I was just like the other guys, except for spring practice."
One college test Seau says he already has passed is in the classroom. He said he finished his freshman year with a 2.8 grade-point average. He's majoring in business administration with a minor in public administration.
Seau graduated from Oceanside with a 3.5 GPA, but he didn't score the NCAA's required minimum of 700 on the Scholastic Aptitude Test (SAT). That cost him his eligibility.
"I don't know what happened," Seau said. "I was successful with my grades in high school. When I took the test, I thought I did well enough. I can't understand it. It ticked me off that people were questioning my grades, and that's why I felt sorry for the faculty at Oceanside. I let them down."
Looking back, Seau says he should have utilized his counselors more. In fact, college coaches have been trying to encourage high school counselors to become more involved in preparing athletes for the SAT.
"I got a piece of the real world," Seau said. "I was very humbled. I lost a lot of friends and found out who are my real supporters. I told people I will be back. I survived the Prop. 48 problems. I know that label is going to follow me, but I can say I beat it. A lot of guys fall from it, grade-wise and football-wise."
The only other thing Seau hasn't enjoyed about life in Los Angeles is he's had his car broken into three times. "If I ever catch the guy, it'll be Boston College early," he said.
Yes, Junior Seau is excited about game days again.
"I'm looking forward to getting the feeling back," he said. "To get the jitters in my stomach. I miss it. I miss the things that come with a big game. I'm looking forward to Boston College. Big game, opening night, national television. I'm back. It's going to be a great year."
* * *

I invite you to follow me on Twitter @shanny4055
Tom Shanahan, Author: Raye of Light http://tinyurl.com/knsqtqu
-- Book on Michigan State's leading role in the integration of college football. It explains Duffy Daugherty's untold pioneering role and debunks myths that steered recognition away from him to Bear Bryant.
http://shanahan.report/a/the-case-for-duffy-and-medal-of-freedom
Don't believe the myths at Duffy Daugherty's expense about Bear Bryant's motivation to play the 1970 USC-Alabama game or myths about the Charlie Thornhill-for-Joe Namath trade. Bear Bryant knew nothing about black talent in the South while he dragged his feet on segregation.
http://shanahan.report/a/myths-that-grew-out-of-1970-alabama-game-with-usc
http://shanahan.report/a/mystery-solved-in-thornhill-and-namath-myth
David Maraniss, Pulitzer Prize winner and biographer; "History writes people out of the story. It's our job to write them back in."
Click here for the link to order from August Publications