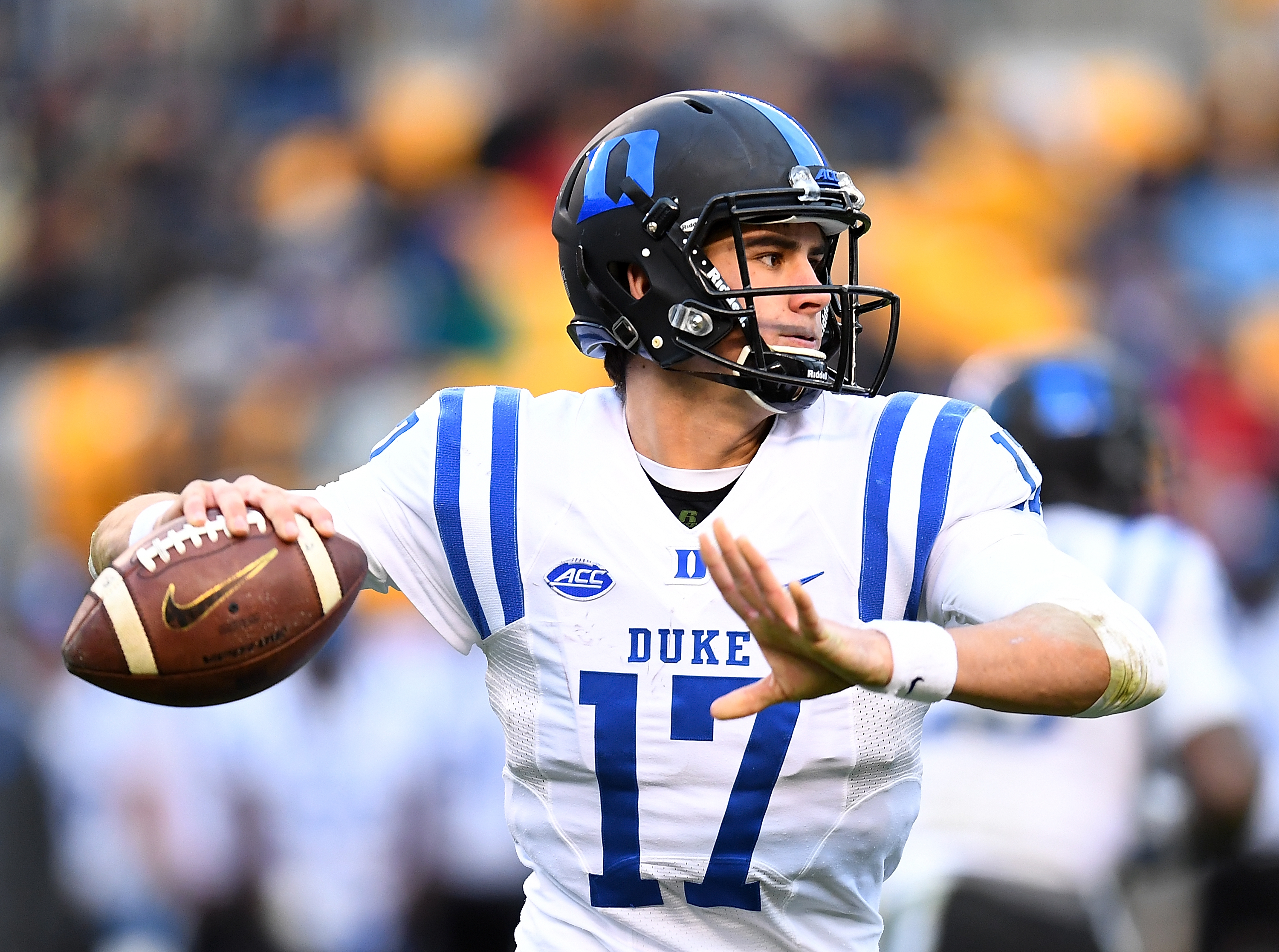 Jones and Gilbert sidelined following surgeries
Jones out a month or more with broken clavicle and Gilbert for year with hip injury
Photo: Daniel Jones at Northwestern
Duke's quick start, one of the Blue Devils weren't shy about anticipating in fall camp, suddenly struck three injury speed bumps following impressive season-opening victories over a pair of 10-win teams, Army and Northwestern.
The school announced on Sunday that All-ACC cornerback Mark Gilbert is lost for the season with a hip injury and third-year starting quarterback Daniel Jones is out indefinitely with a left (non-throwing side) fractured clavicle. Both players were hurt in Saturday's 21-7 win at Northwestern; they underwent surgery Sunday upon the team returning home from Evanston, Ill.
In addition, the Blue Devils played Northwestern without wide receiver Aaron Young, who suffered a hamstring injury earlier in the week in practice. Young had led Duke in receiving in the win over Army with four catches for 114 yards and a touchdown.
"Mark's injury was very awkward, odd injury that is not common," Duke head coach David Cutcliffe said on the school's website. "It was really unlucky, but things like that happen. Daniel is believed to a much shorter period. Both are in good spirits. Daniel is chomping at the bit, but let's get well first before worrying about getting back."
Fractured bones typically take four to six weeks to heal.
Duke has games the next three Saturdays at Baylor, at home against North Carolina Central and at home in their ACC opener against Virginia Tech before a bye the fourth week on Oct. 6. The season resumes on the fifth and sixth weeks since the injury on Oct. 13 at Georgia Tech and Oct. 20 at home against Virginia.
At Northwestern, Jones threw three touchdown passes in the second quarter to rally Duke from a 7-0 before he was injured on a third-quarter sack. His scoring tosses were to T.J. Rahming for 9 yards, Johnathan Lloyd for 52 and tight end Davis Koppenhaver for 7 in stride as he ran out of the back of the end zone. Jones finished 16-of-22 for 192 yards and three touchdowns without an interception. Through two games the NFL prospect is 29-of-39 (74.4 percent) for 389 yards and four touchdowns without an interception.
Redshirt junior Quentin Harris replaced Jones and finished the game 2-of-2 passing for 12 yards with five carries for 27 yards. Harris doesn't have Jones' NFL arm, but he is a strong runner; that likely means adjustments to Duke's offensive game plans.
The other backups are redshirt freshman Chris Katrenick and true freshman Gunnar Holmberg. Only Harris has taken snaps among the three backups.
Gilbert, who is projected as high as the NFL's first round following an All-ACC sophomore season, was replaced by a combination of Michael Carter III and Josh Blackwell. They had been splitting time at the corner spot opposite Gilbert.
At Northwestern, Carter recorded eight tackles and an interception and Blackwell four tackles. Northwestern quarterbacks Clayton Thorsen and T.J. Green, while playing the second half from behind, combined to average only 5.0 yards per attempt and 9.1 per completion. They were 31-of-56 passes for 282 yards without a touchdown and two interceptions.
* * *
I invite you to follow me on Twitter @shanny4055
Tom Shanahan, Author: Raye of Light http://tinyurl.com/knsqtqu
-- Book on Michigan State's leading role in the integration of college football. It explains Duffy Daugherty's untold pioneering role and debunks myths that steered recognition away from him to Bear Bryant.
http://shanahan.report/a/the-case-for-duffy-and-medal-of-freedom