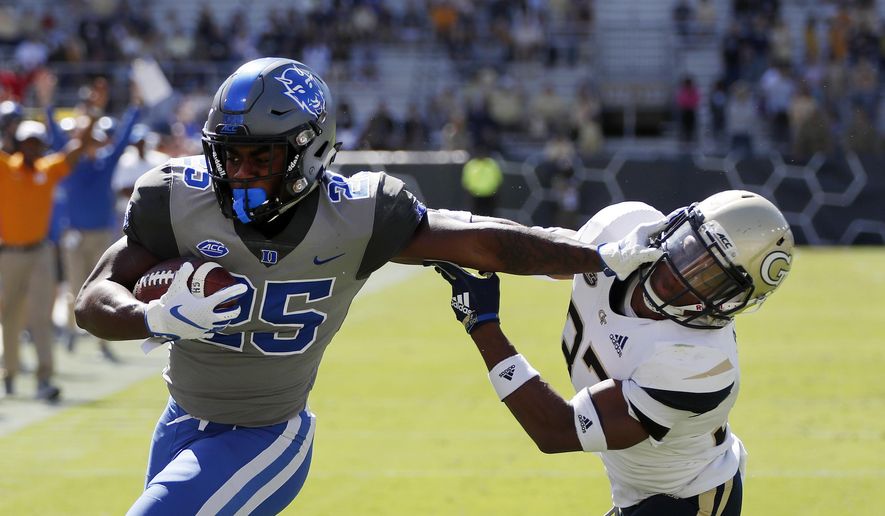 Blocking is secret Jackson learned in college
Running back's work load increases with Brown's injury and ability to to block
Photo: Deon Jackson
DURHAM, N.C. -- More is being asked of Deon Jackson these days, especially with starting running back Brittain Brown injured. Jackson ran the ball only 32 times last year, but it's more than the number of carries that have altered his work load.
No matter how many times Jackson runs the ball when the Duke (5-2, 1-2 ACC Coastal) meets Pitt (3-4, 2-1 ACC Coastal) at 3:30 p.m. Saturday in Heinz Field, it's the plays helping the quarterback remain upright to protect the ball that have demanded more of him of the 6-foot, 225-pouder from Atlanta Pace Academy.
"The speed of the game is different from high school, but the main thing that is different in college is pass protection," Jackson said. "In high school, I didn't have to pass protect. Blocking as a running back has been the biggest adjustment. I feel I've done it pretty well."
Jackson, who was named one of two most improved offensive players by the coaches in spring ball, wouldn't be on the field otherwise. It's truer more than ever in football with offenses using one-back formations and the game encourage throwing the ball with recent rule changes favoring wide receivers against defensive backs.
"You not only have to do it physically, it's the schematics," Duke coach David Cutcliffe said. "Running backs are doing dual roles. They're scanning for outside pressure on one side and the other. They have to know the pre-snap reads. They need to know what the quarterback knows. They never had to that in high school. It's not just the physicality, it's the mentality. You better embrace if you want to play the next level."
Jackson was a 3-star recruit, and there are plenty of 3-star running backs in each class, but not all of them have found playing time by learning pass protection responsibilities.
When Brown missed Duke's win at Georgia Tech two weeks ago, Jackson carried the ball 21 times for 98 yards and one touchdown, a 12-yard run. He also caught two passes for eight yards. But he also had to block, with quarterback Daniel Jones completing 17-of-27 passes for three touchdowns.
"Everything about college you have to be a lot more technically sound," Jackson said. "I didn't realize all the techniques that went into blocking. You have to learn the techniques and put it together with your game. Last year I had the techniques, but putting everything together in the game was my problem."
Jackson's production fell off last week when the Blue Devils lost at home to Virginia, but that was a result of the offensive line's inability to open running lanes against the Cavaliers' defense. He finished with only 11 carries for 17 yards and caught one ball for 13.
Duke's other loss in ACC play also was a result of not matching up in the trenches against Virginia Tech. Jackson had 15 for 34 yards, although he scored a touchdown in his fourth straight game, and caught three balls for 34 yards.
His pass blocking remained steady, though, and that's why he continues to fill in for Brown.
The Virginia loss dropped Duke two games behind Virginia Tech in the Coastal standings, but the Hokies (5-2, 3-1 Coastal) came back to the field when Georgia Tech (4-4, 2-3 Coastal) routed Virginia Tech Thursday night in Blacksburg.
Duke's two ACC losses now only trail by one game a four-way tie with one conference defeat. In addition to the Hokies and Pitt, the other two one-loss teams are Virginia (5-2, 3-1 Coastal) and Miami (5-2, 2-1 Coastal).
Jackson said the team has bounced back emotionally from the Virginia disappointment in practice, and that was before Virginia Tech's loss.
"The main thing from the coaches and players is we've got to go back to work," Jackson said. "We've got to work every play. I would say (the loss) has made us more determined than anything."
* * *
I invite you to follow me on Twitter @shanny4055
Tom Shanahan, Author: Raye of Light http://tinyurl.com/knsqtqu
-- Book on Michigan State's leading role in the integration of college football. It explains Duffy Daugherty's untold pioneering role and debunks myths that steered recognition away from him to Bear Bryant.
http://shanahan.report/a/the-case-for-duffy-and-medal-of-freedom

Click here for the link to order from August Publications